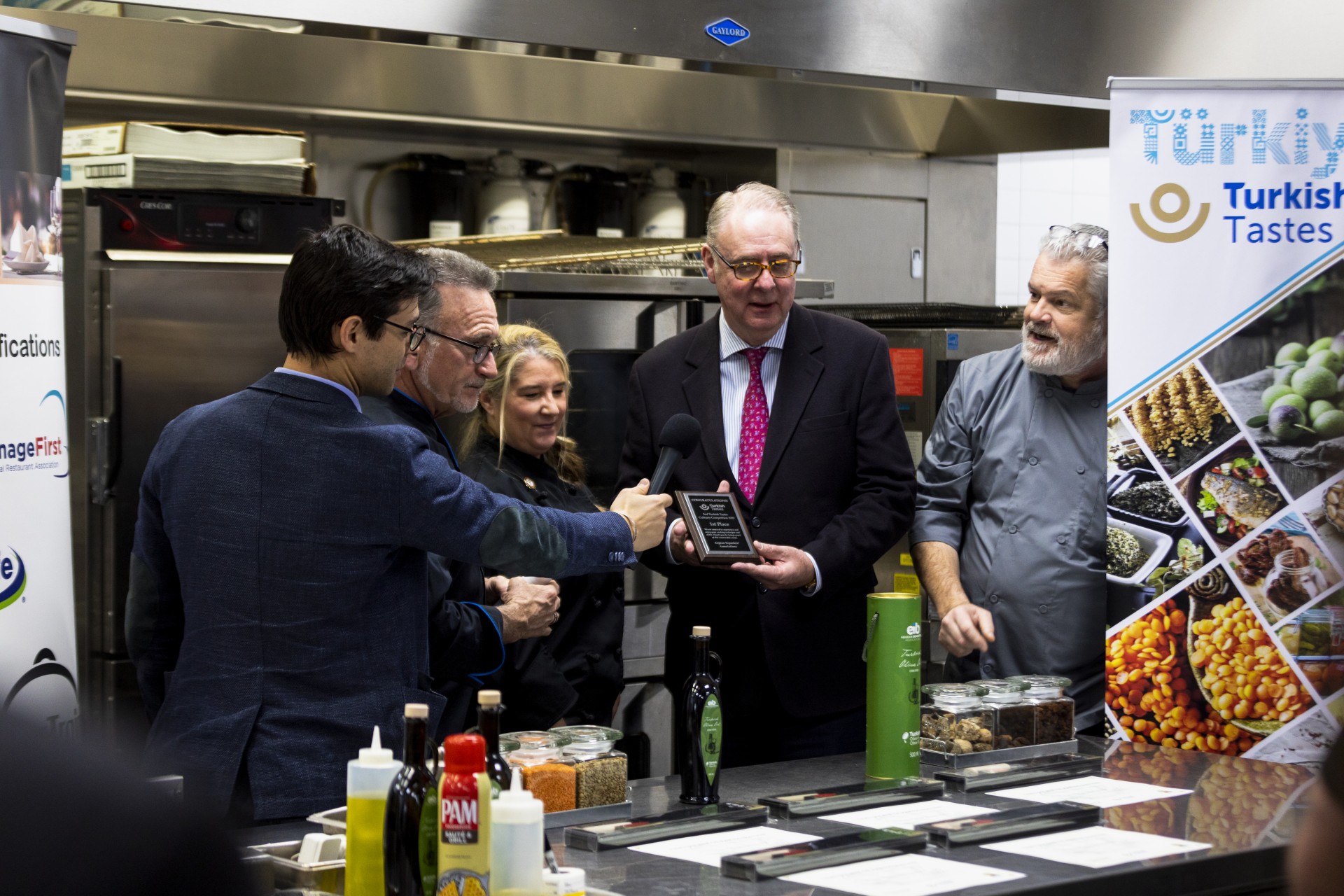 Turkish Tastes strengthens its presence on the Las Vegas culinary scene
After launching a 4-year project in 2020 for the promotion of 6 food and agricultural industries in the Aegean region of Turkey, Turkish Tastes is expanding its presence in the culinary scene of Las Vegas. In partnership with UNLV's Harrah College of Hospitality and the Nevada Restaurant Association, the organization hosted several cooking demonstrations and tastings.
One of the highlights of 2021 was the first annual Turkish Tastes Culinary Competition, where top chefs from Las Vegas casinos, restaurant business chefs/owners competed for the title of "Top Turkish Tastes Chef of Vegas". The competition was a real treat for the eyes and the taste buds. In addition to the nominee chefs, the VIP guest list included the Vice President of Food and Beverage Operations, The Cosmopolitan Hotel, National Account Managers from numerous Las Vegas vendors, as well as executives from UNLV, Harrah's College of Hospitality.
In March 2022, the second annual Turkish Taste Contest was held in the kitchen of UNLV Harrah College of Hospitality. Judges for this year's event included celebrity chef Rick Moonen, Luciano Pellegrini, Michelle Vietmeier and Lucio Arancibia.
Six chefs have challenged themselves to claim the best Turkish chef in Las Vegas. This year's winners were:
1st Place Winner – Gonzalo Garzo (Executive Room Chef/Head Chef, Palms Hotel.
2nd Place Winner – Oliver Culio Brown (Cook, The Henry's, The Cosmopolitan Hotel)
3rd Place Winner – Noe Banuelos (Executive Chef, Agave Bar & Grill at Resorts World)
While the prizes for the winners were $1,500, $1,000, and $750 respectively, all contestant chefs received certificates of participation, a master chef's knife, and Turkish culinary delicacies.
VIP guests for the 2022 culinary competition included:
Stowe Shoemaker (Dean of Harrah College of Hospitality at UNLV), Katherine Jacobi (President of the Nevada Restaurant Association), Kazim Gurel and Ata Ozdemir (Board Members of the Aegean Exporters Association) and major distributors serving the Las Vegas Valley.
PRIME
Discover Chef Gonzalo Garzo's winning recipe:
Grilled Mediterranean branzino served with dried Turkish fruit, red lentil succotash. (Click here to see the video on YouTube.)
All recipes can be found on the Turkish Tastes YouTube channel. (Click here to see the list)
Turkish Tastes is looking forward to next year's 3rd Turkish Tastes Culinary Competition, turning the concept into a tradition.